Don't throw out those Halloween pumpkins just yet! This blog is stock-full with some beautiful ideas on how to set your table this Thanksgiving; all for tricking your family into thinking you are the Pinterest Master. A lot of these can be altered to fit your home's existing decor, too! If the bright orange stands out a little too much on your table, try finding some fake white ones to leave white or paint emerald, navy, black, or gold for extra flair and coordination.
Love succulents? Congrats, you can still incorporate these into your fall-themed tablescape! Plant some into a more flat, rectangular pot and fill around them with Spanish moss and fall-colored stalks to seamlessly incorporate them into your decor. Placing green and white spotted pumpkins will also help mellow out the bright orange ones and blend all the elements together.
If you're really crafty, find a fake pumpkin that is hollow and work on the placement of stalks, leaves, and pinecones for an adorable autumn centerpiece. All of these can be found at your local craft store and only takes an afternoon to put together. We love this idea for a more wooden-cabin theme because you can incorporate the dried leaves and wood slices as placements around the plates.
Here we even sourced some pieces you'll need to create your own fall-themed succulent centerpieces. Remember to play around with the placement of the plants until you get the perfect look and don't forget to take the credit when your friends and family compliment your masterpiece.
4. Spanish Moss
If you still love the all-white-everything look in your home, this one is perfect! All you need are some candles, white pumpkins, and greenery. It is really up to you whether you decide to use real or faux plants; faux can be reused but nothing can beat the real thing. This classy look will surely set the mood for a formal family gathering and elevate the surrounding table settings. The fun part with this option, the surrounding glass pumpkins will beautifully bounce light off the candles.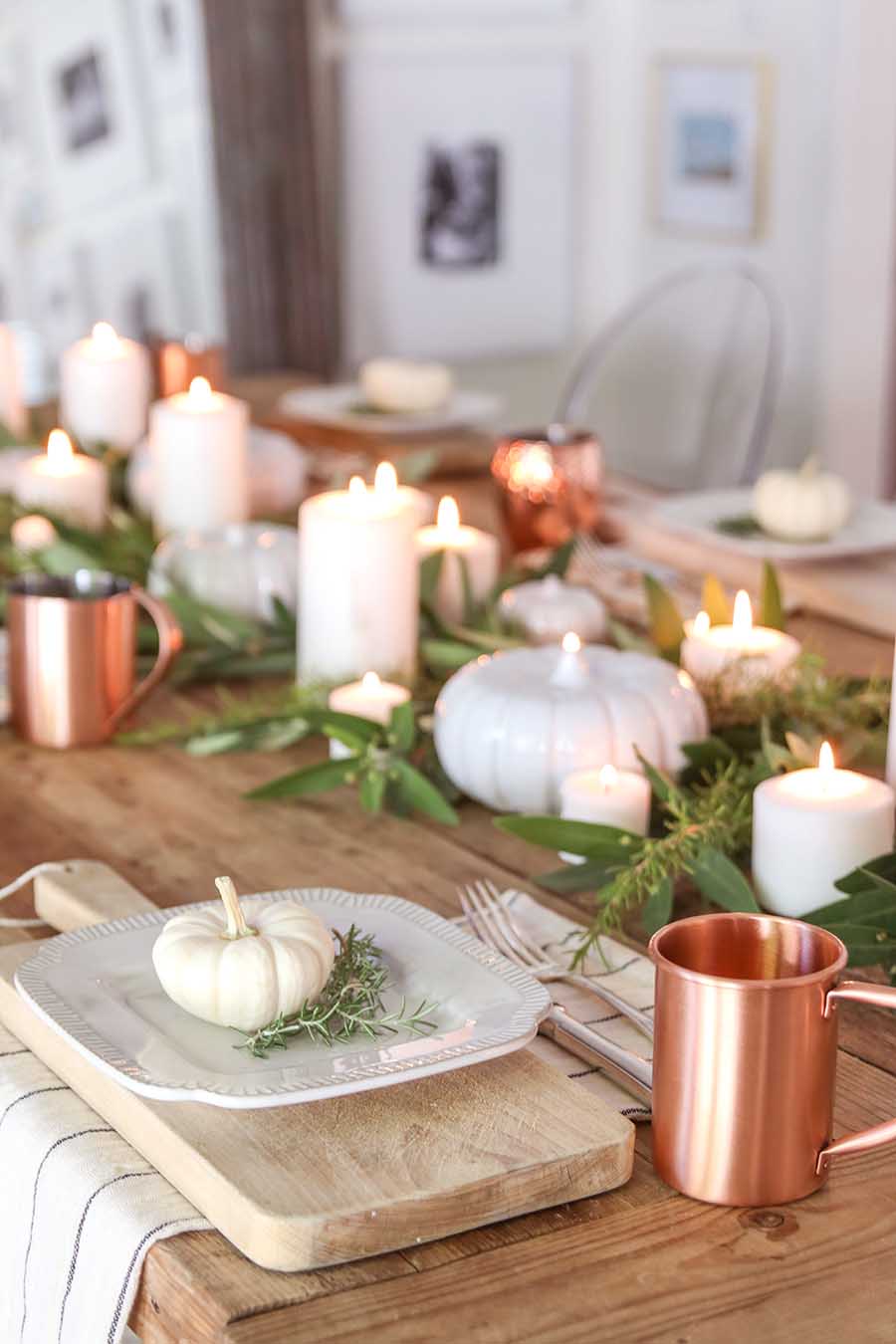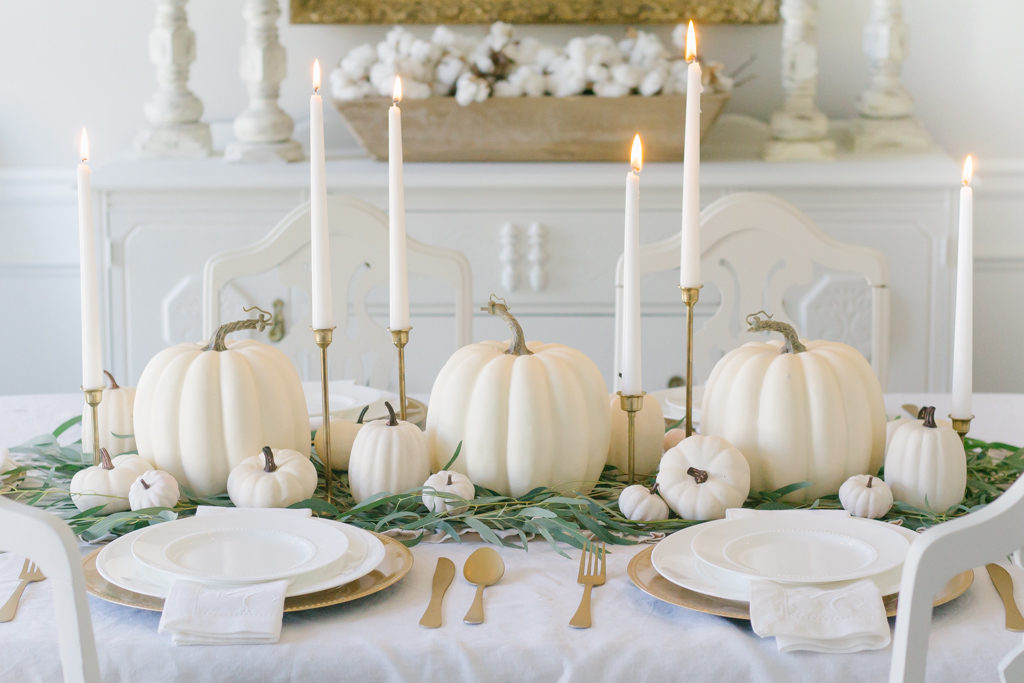 Whether you want the real deal pumpkins or find some assorted sizes on sale, here is a quick list of some affordable supplies to create the flawless setup. With so many pumpkins, you could even use them as decor around your home until the night of. And you can never go wrong with some gathered candles and a eucalyptus vine sitting around your home throughout the year.
This casual centerpiece is perfect for a quick setup for dinner! It screams fall and comfort and is great for incorporating some jewel-tones to match your surrounding home. The colors add moodiness and depth to the table. And with all of these options and information, just remember to choose what makes your happiest looking at in your home!
We sourced some beautiful velvet that you can reuse every year and even have some color options to adjust to your home decor! The gingham would match your farmhouse look perfectly and could be left alone throughout the year even!
2. Wheat Stalks
//
Thank you for being an A.Clore Interiors Blog reader…..
Don't forget: you can find us on Facebook – "like" us to keep up with the latest and greatest!
You can always find more design inspiration on our Pinterest and Instagram pages!
Connect with us on Google+ and LinkedIn
Visit our Website for more information on what we are about and how interior design can change your life!