Voting is now open and fyi….you can literally click on any photo or link in this post to get to the home page for the HGTV Fresh Faces of Design Awards website (see, there's one right there. Yep, we're making it that easy!)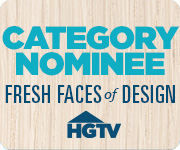 Voting for HGTV's 2014 Fresh Face of Design Awards has officially opened and we are beyond excited about it!
All you need to do are these 5 steps:
1– Visit this | AWESOME SITE: http://www.hgtv.com/design/fresh-faces-of-design/2014/most-unusual-space
2– Find | AMBER CLORE in the Unusual Spaces category.
3– Click | "SEE ALL PHOTOS" in the upper right.
4– Click | YES to VOTE and make sure to swipe through and click the blue vote button on ALL 4 PHOTOS!! (daily, if you can spare the moment 😉
5– Celebrate | because YOU just made us one vote closer to an amazing oporturity to collaborate with the HGTV Fresh Face judges, producers and creators. (see, we just did it again with the link!)
6. EXTRA CREDIT – SHARE WITH YOUR FRIENDS!!
Easy, huh? 
Our Livable Library that we created for the VanGundy family in Lake Mary, Florida was selected for the Unusual Spaces category. We are honored to be among some amazing designers from around the country.
What makes the VanGundy's library a truly Unusual Space is the mashup of streamlined architecture and the colorful blankets and pillows that add a contrast that brings warmth to the room.
Just look at these pictures, don't they make you want to curl up with a good book?
Another surprise in this unusual library is the hidden room that lies just behind the custom bookcases which is a true delight for both old and young.
We did all the hard work, now its up to you!! We would be forever grateful if you would vote for us!
 Voting continues until December 11, 2014 and you can vote on each photo once a day on every device!!  So please keep voting on your phone, tablet and desktop!  The winners will be announced in January 2015!
Thank you, thank you, thank you for your support to help us get…
//
Thank you for being an A.Clore Interiors Blog reader…..
Don't forget: you can find us on Facebook – "like" us to keep up with the latest and greatest!
You can always find more design inspiration on our Pinterest and Instagram pages!
Connect with us on Google+ and LinkedIn
Visit our Website for more information on what we are about and how interior design can change your life!